Where?
Both my therapy rooms in Clapham and Coulsdon aim to provide a warm and welcoming space for you to explore your problems.
Clapham:
My practice in Clapham is a bright, open room in a residential building very central to Clapham Junction station.  Located just off Falcon Road, it is less than five minutes walk form Clapham Junction and can be accessed from Falcon Grove bus stop (served by buses 49, 319, 344, 345, 639 and 670).  Parking is restricted to permit holders only during weekdays but available at the weekend.
Coulsdon:
In Coulsdon, my practice is based from my home in South Coulsdon, which is fully wheelchair accessible.  If travelling by public transport, the closest rail station is South Coulsdon (ten minute walk), although you can also travel to Coulsdon Town (fifteen minute walk). If travelling by bus, you can travel via routes 405, 463, 633 to South Coulsdon station or routes 60 and 404 to Coulsdon Centre.  If you are travelling by car, there is plenty of parking available.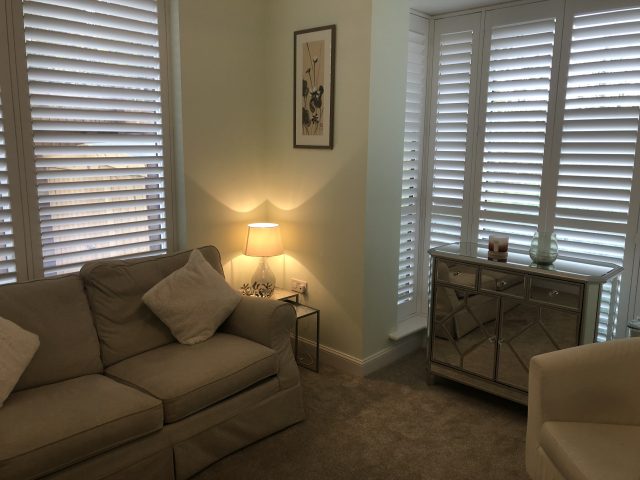 Please get in touch and let me know if you are interested in coming to Clapham or Coulsdon, so I can provide more detailed instruction on where to find me.
When?
We will usually meet on a weekly basis for a 'therapeutic hour' which is 50 minutes.  I offer appointments during week days and evenings and would arrange to see you at the same time each week for as long as you felt you needed.
How long the therapy takes can vary from person to person and you are free to have as many or as few sessions as you feel you need. I work both short-term and long-term, however I will usually suggest that we start off with six sessions as this is a good amount of time us to get to know each other and for you to get a sense of how many sessions you feel you might need.
How much?
My rates are £60 – £80 per session (from 2021).
I understand that often money can be a real barrier to people getting the help they desperately need.
I do therefore offer concessionary fees to those experiencing financial difficulty.
I also offer a student rate for trainee counsellors undertaking counselling as part of their course requirements.
Please contact me for more information.
What next?
To get started, please get in touch by phone or email.  I will aim to respond to your message within 24 hours and will ask for some basic personal details i.e. name & contact details. I will also ask you when you are available to meet for an initial session and give you some instructions on how to find me.
On the day that we meet for our initial session, it is very normal if you are feeling a bit anxious and unsure what to expect.   If I am feeling nervous, I know it can help to know what to expect:
The session will be informal and give you the opportunity to talk your reasons for coming to therapy and how you hope it is going to help.
Because it is important to me that you feel comfortable, this initial meeting will also give you the chance to see if my style of counselling suits you.
I will also be happy to answer any questions you have (it can be helpful to write these down if you are feeling nervous beforehand)
Towards the end of the session we can together we can talk about beginning to work and what to look at in the coming weeks.
Please feel free to get in touch either to arrange an initial session or to ask any questions. All calls and e-mails are treated as strictly confidential.